It's Catholic Y'all is a podcast series of the Catholic Diocese of Savannah. The Diocese of Savannah is made up of 90 counties in the southern half of Georgia stretching from the Atlantic ocean to the Alabama state line. Stories of life, love, and faith. It's Catholic Y'all!
Episodes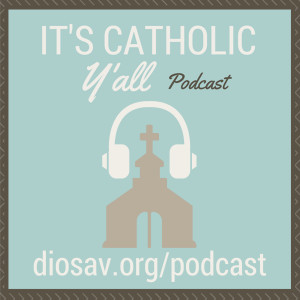 Wednesday May 22, 2019
Wednesday May 22, 2019
In this episode of It's Catholic Y'all we're excited to bring you the first installment of Casual Conversations with Abbie Byron-Goslin and Fr. Chris Ortega. Abbie is a lay campus minister, and Fr. Chris is a priest with the Diocese of Savannah. This week they're talking about the recent trip Fr. Chris took to a conference on youth ministry, what it was like for each of them growing up Catholic and the importance of practicing the faith as a whole family.